Auto Injury Recovery Center
Rainy and snowy days in the Chicagoland area often make for treacherous driving conditions with slick roads and limited visibility. If you, a family member or friend are involved in a car accident, call your local chiropractor Dr. Russ Manney, conveniently located in the Oakbrook and Westmont areas. Virtually every auto accident causes neck or lower back injury. You might not feel pain or discomfort immediately, but don't underestimate the severity of your injury. Smaller joints and muscles often don't react immediately, but pain or stiffness can develop weeks later. When your spine goes up against tens of thousands of pounds of vehicle force, it can't help receiving severe trauma, even with low-speed fender benders.
Watch Out For These Symptoms When Involved In An Auto Accident: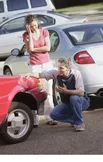 headaches
neck pain
lower back pain
dizziness or nausea
arm or shoulder numbness or pain
Having seen thousands of patients suffering from a car accident, Dr. Manney has experience treating whiplash. It's critical that you come in for an examination to determine the full after-effects of the auto accident. Don't cover up the symptoms with pain pills and muscle relaxants. Let us help you do something about the cause of your discomfort. Our goal at IRC Chiropractic & Physical Therapy is to return you to how you were before the auto accident.